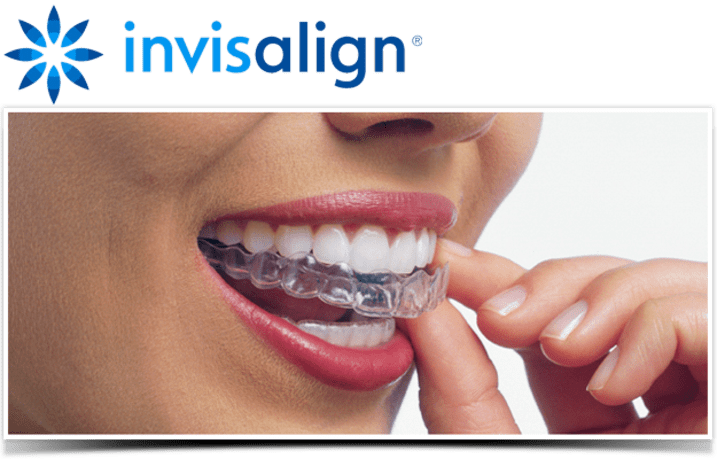 Deciding to straighten your teeth is much easier knowing Invisalign® treatment lets you live your life the way you want to. With Invisalign aligners, there's no need to worry about the gum and mouth irritation other teeth-straightening methods can cause.
Invisalign aligner trays are not only smooth and comfortable to wear, but they're also removable. That means you can continue doing things you normally would. From brushing and flossing to eating whatever you like. With other devices, brushing and flossing properly can often take up to 30 minutes!
Special occasion coming up? No problem — just take your aligners out for that time and pop them back in when you're ready. Of course, even when you're wearing them, most people won't even know you're going through treatment, because they are virtually invisible!
Invisalign treatment is also ideal for your busy schedule, with fewer doctor visits required (approximately every six weeks).
Choose the clear aligner system committed to continuous innovation, with 20 years of clinical research and more than 700 patents. No other clear aligner is backed by the data and experience of 4 million cases.
With weekly aligner changes, you're on your way to the smile you want even faster.
Proven results
SmartTrack® material and SmartForce® features are clinically proven to achieve 75% more predictable tooth movement.**
Better fit, better comfort
Aligners made from SmartTrack material are more comfortable, better fitting, and easier to put on and take off.***
Effective for a wide variety of cases
Proprietary SmartForce features and SmartTrack material make Invisalign treatment effective for complex cases. With innovations like these, your doctor can move your teeth more precisely.
A unique feature for teens
Invisalign clear aligners for teens contain compliance indicators that fade from blue to clear to help gauge wear time.​
** SmartTrack material and SmartForce features are clinically proven to improve control of tooth movement with Invisalign clear aligners. Data on file at Align Technology.
***Compared to aligners made of off-the-shelf, single layer .030in the material. Data on file at Align Technology.